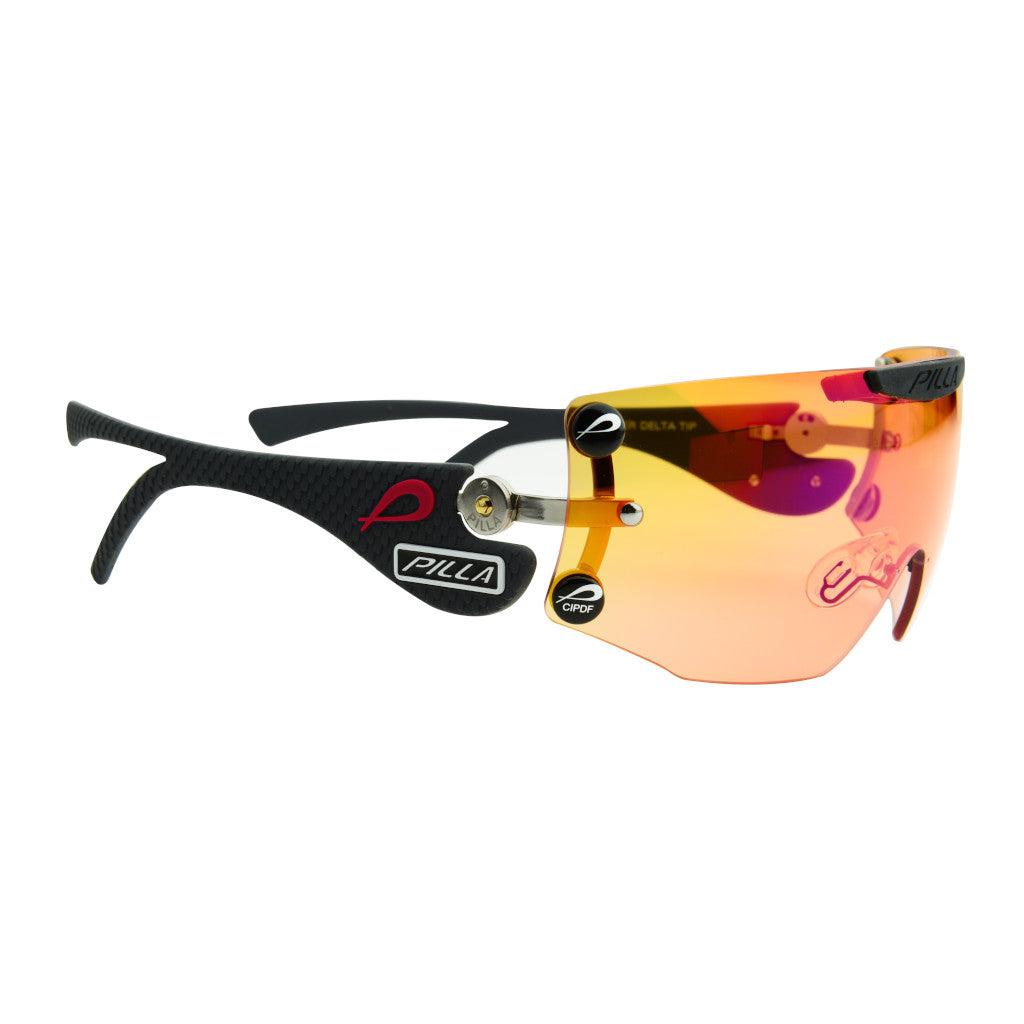 X7 Custom Kit
From
---
The Outlaw X7 system is powered by PILLA ZEISS lenses and are certified to be a perfect optical instrument.  The front bar has been taken out of the frame so the visual site picture is unmatched. The shooter is presented with an unobstructed view without any imperfection or visual disruption. The Carbon Fiber temple design allows for extremely quick changing of the lens technology to maximize the performance of the product in any lighting condition.
Each customizable kit comes with 1 frame + lenses + a medium vault. The more lenses you add, the greater the discount applied as you build your kit.
** FREE Shipping on all kits for a limited time. **
Sizing:
Lens Style: Interchangeable Masks
Adjustability:
Temple Styles Available:
Carbon Fork
CXL Wide
XW
Diamond Plate
Rubber Tread
Copa Mundial
Edge
Viper
Cable
Orders are typically shipped same day if made before 3pm EST, excluding weekends and holidays.
FREE Domestic Ground
$35 FedEX 2 Day (weekend delivery not included)
$50 Flat Rate Global Shipping*
*Canada, Mexico, Central America: $35 flat rate
*Europe is FREE for purchases of $350 or more


SHIPPING TIMES:
Domestic ground shipping typically takes 3-5 days. International shipping, always sent priority, arrives in about 3 days.
For information about product warranties and the return policy, visit here.
What should I consider when choosing lens filtrations?
4 criteria to consider:
Environment – Where are you using the lens? The desert, the woods, open fields?
Lighting Condition – Full Sun, Medium Light, Low Light, Overcast, at Night, Indoors?
Activity – Clay Shooting Sports, Hunting, Sport Specific
Filter Color – The base filter color value is a real benefit to recognize. Some athletes see better with for example more lift in "Red" with lens while others need less and more balance approaches to color.
Each of these lens criteria are detailed in each lens filtration product and you can use the filtering capability on the component lens page to narrow your lens options, selecting each data point. If you are building a kit but do not yet know which lenses you would like, visit the lens component page for the glasses series you are wanting to purchase and use the filtering to narrow your selections.
Does eye color make a difference?
Athletes with lighter color eyes tend to be more light sensitive than athletes with darker eyes… So low transmittance values (meaning darker lenses) in the lens offering will tend to be very comfortable for light colored eye athletes. Dark color eye athletes will tend to want a bit more transmittance value and are less light sensitive so they can benefit from less dark filter profiles and more light traveling through the lens.
How is performance affected in different filtrations? 
Our lens technology provides technical achievement across all transmittance values from full sun to low light. The ability to accelerate color lift has more realized performance in darker lenses as there is more pigment tuning technology in a darker lens. So if the athlete is looking for more demonstrated "Lift" or "Change" in color - darker value lenses provide more of a significant change in the sight picture for the athlete. For athletes looking for a rich color and very balanced lens, you should look to stay with the "ED" lens profiles as these provide lift to the entire color spectrum and provide extremely detailed sight pictures. The entire sight picture becomes more vibrant and defined with any of our lens technologies, but usage occasion can be specifically detailed with our lens selector for each model.
How can I tell which lenses are best for which environments?
The environment that you are using our lens technology in is quite important as the lens filter or the way we manipulate color or elevate or decrease color provides significant benefits to the athlete using the lenses. Our lenses are classified with the following designations: 
Enhanced Definition – "ED" - these lenses are a balanced color lift where we concentrate on making the entire visual picture more vibrant across the complete color spectrum. 
High Contrast – "HC" - these utilize a mix of color values across the visual spectrum to create more contrast and separation between the intended target or environment, so the sight picture has separation between color. 
Neutralizers – "N" – these are special utility lenses where the design of the lens is specifically engineered to suppress greens and elevate specific values in the visual color spectrum to intensify various colors. 
Max Lift – "M" lenses – these are lenses specifically engineered to elevate the orange piece of the visual spectrum. We have many lenses that use this technical filter profile to dial up orange recognition and intensity. The amount of lift between lenses using "M" or "Max" filters is different by lens transmittance with some being more intense than others. The darker the lens the more pop you will get but even our high transmittance lenses provide a nice rich color enhancement in the orange piece of the spectrum. The Max technology can spike pieces of the visual spectrum by over 600%. This is a huge advantage for athletes looking for quick acquisition of the intended reference target.