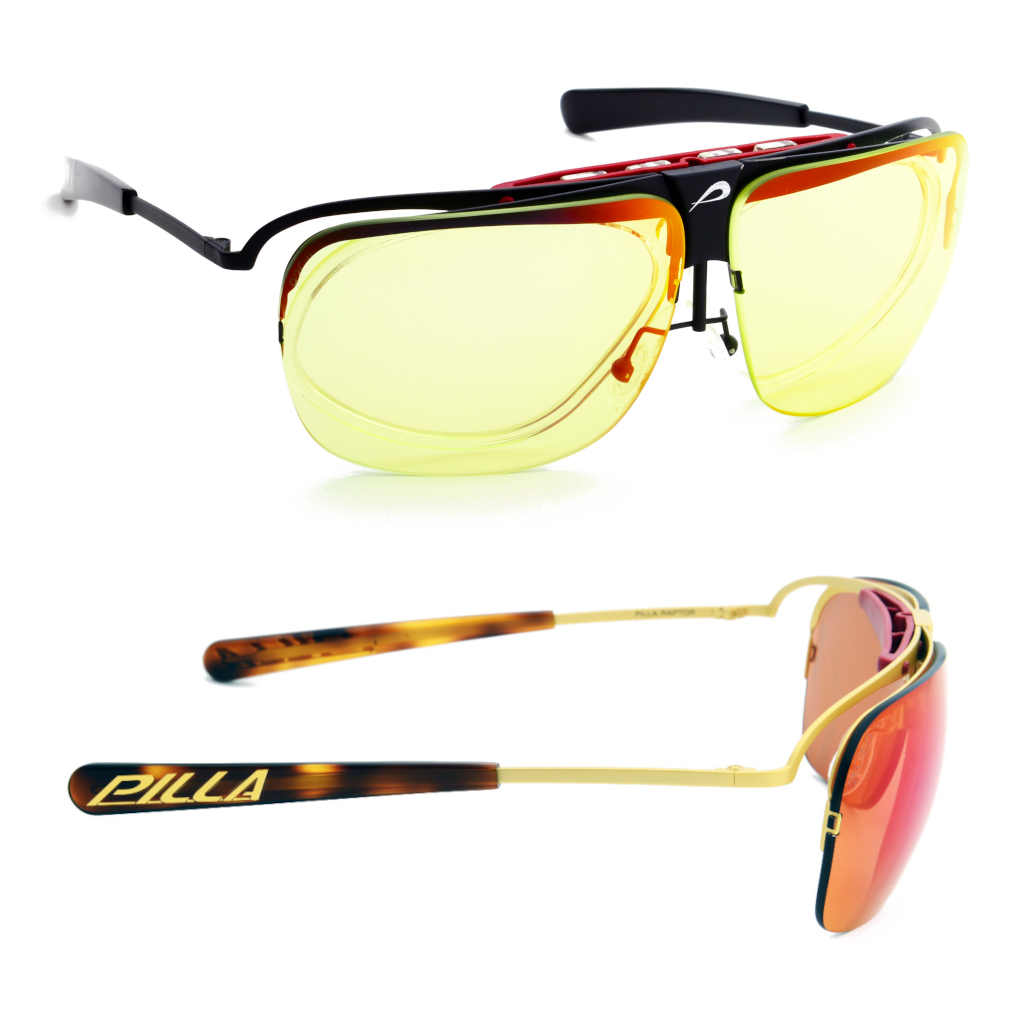 Frames
The frame of the Raptor uses a very unique floating lens so when you put on the frame the temples are allowed to flex without bending the front bar of the frame. This is an important performance feature for prescriptive wearers as "frame flex" will not change the lens position effecting the power in the lens.
Temples
The Raptor uses 3 different temple options – Adjustable Rubber Fork, Adjustable Cable, Hand Made Italian Acetate
The Adjustable Fork can be extended for additional length and also the fork can be adjusted for optimal fit behind the ears.
The Cable option is a full rubber cable which will form to the ear shape over time. There is no metal in the interior of the cable for enhanced comfort.
The hand-made Italian Acetate temples are in a bayonet straight style. This design can be used both in the field, on the range, or everyday as a lifestyle sunglass.
Interchangeable lenses
The Raptor uses Zeiss lenses and are a high wrap Base 8 design. This model is perfect for both prescriptions and non-prescription options. There is also the option to add an Rx Insert or split insert.
Nosepiece
The Raptor come with 2 different nose pieces that are adjustable. A short and long option is supplied for maximum customization of the height of the frame. The Raptor uses our high performance silicone saddle one piece nose. This is super comfortable and also anchors the frame on your face.
Sweat bar
The Raptor has a very soft rubber integrated sweat bar to help provide venting and enhancing air flow on the back of the lens. If utilizing an Rx or Split Insert, the insert slides securely into the sweat bar.
Lens Attachment
Each lens in the Raptor is fully interchangeable. The Pilla engineered design uses a "lens anchor" which is a shadow box cut out on the nasal and temporal side of the lens. The temple side of the frame is "Unhooked" from the lens and then slide out of the nasal attachment. To reattach the lens you insert the lens into the nasal side and then clip the temporal side in.